13 Dec 2022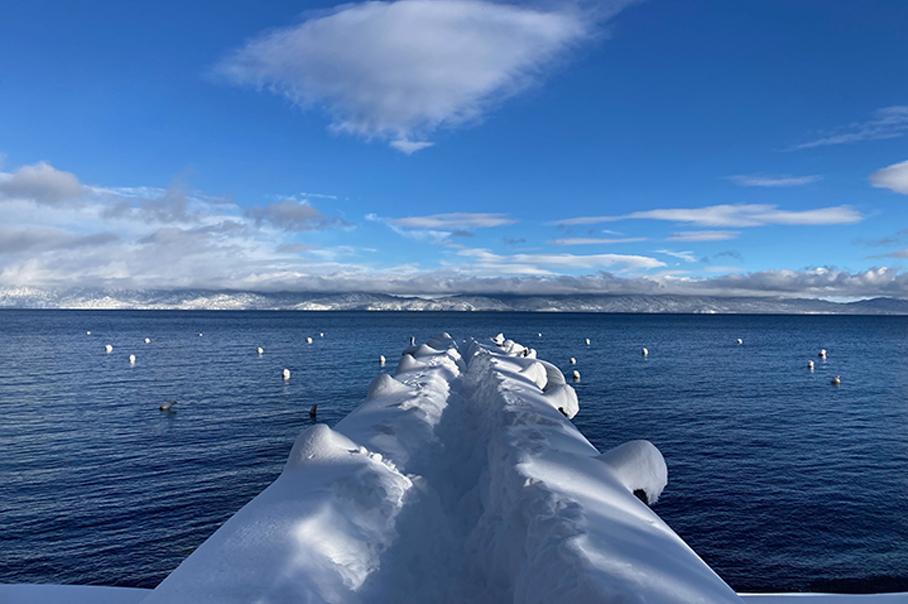 By Tim Hauserman
I've always loved being in the middle of a big Sierra snow storm. From the anticipation that begins days earlier, through the height of the storm and on into the day after when the blue ski emerges and the digging out begins. There is something so peaceful about how the world shuts down to the bare essentials when the snow is coming down hard. The storm we had this past weekend perfectly fit the bill.
The anticipation began days before the snow arrived. There was a mini-teaser storm that brought a few light inches on Thursday night, and then finally Friday night the big storm approached.
The storm was to be a classic Sierra storm in that it would start out with disappointment: wet snow and rain. We all watched the forecast that told us that this was what was supposed to happen, and that it would turn into snow, but will still fretted that the storm would be a snow bust as it failed to deliver throughout the day. 
Then about 4 pm, it started to get colder and turned to all snow. But when we went to bed It was a bit like going to sleep as a kid on Christmas eve and wondering whether Santa would bring us what we really wanted in the morning, or we would get coal in our stocking.
Santa delivered big time. By the time it was light enough to see out the window, it was hard to see out the window, because there was about 28 inches of new snow that had fallen since it got dark. And it was still snowing.
Shoveling is always a good excuse to get out into the snow in a storm, and there was plenty of shoveling excuses to be had. After spending an hour digging a path to the driveway, I took a walk around the neighborhood. The trees were covered in a thick coat of white frosting. The roads were unplowed, kids were playing in the snow, and the world had that special calm that only comes when a lot of snow dampens the world.
After spending most of my life in Tahoe I have a few suggestions for visitors on how to enjoy a big snow storm: First and foremost. Don't drive to get to it. If you are not already up here prior to the storm arriving don't try to get here. Heed the proclamations that say to stay away. This is for your protection and for folks who need to get around in an emergency and can't if your stuck car is blocking the road. Second, once you are here. Stay put and don't drive until the storm is over and the roads are clear. Take a deep breath, put on some XC skis or boots, and head out for a stroll around the neighborhood.
***Make sure you read our Winter Disclosure if you have a reservation and a big snow storm is headed to Tahoe.