15 Oct 2020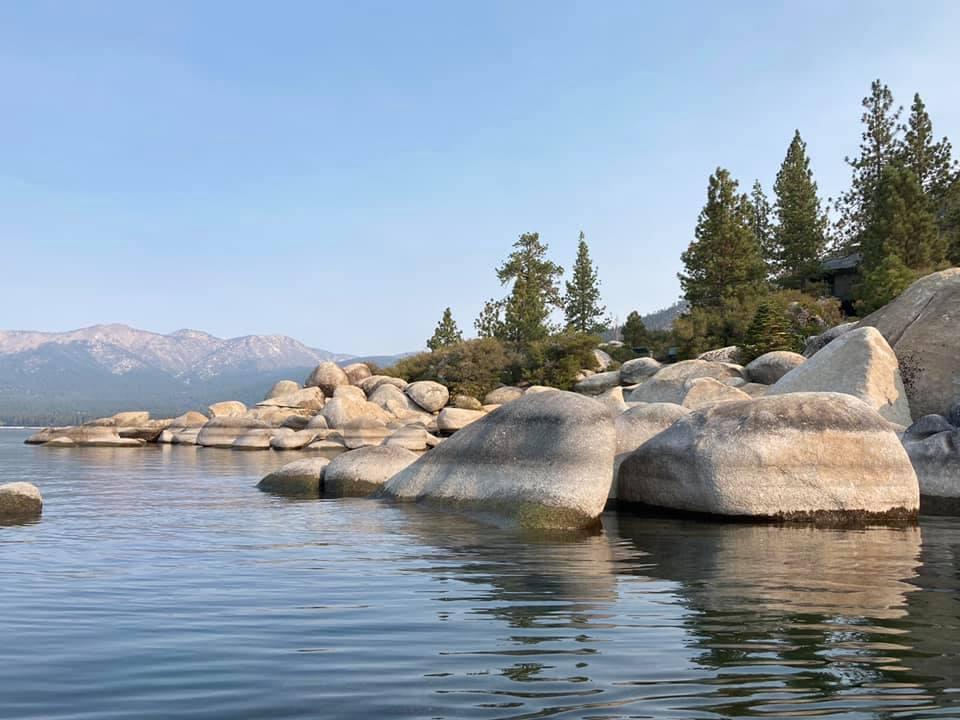 During the summer months Sand Harbor was a no-go for me. It is certainly one of the prettiest  places to be at Tahoe, but from June through September the parking lot would fill up and close for the day by early in the morning. The place was packed. But given a warm midweek October day, when a good portion of the crowds have disappeared, we decided to pack up the kayak and head for Sand Harbor. We were glad we did. 
We arrived at the boat launch at 9:30 and were joined by several other kayakers intent on hitting the calm waters early. It's a $10 parking fee, but just a short walk from the kayak parking area to the sandy beach. From there we paddled north towards Incline Village. While I'd gazed down on this section of the lake several times from the spectacular East Shore Trail, this was my first time seeing the coast line from the water. We hugged the shore, wandering in and out of little rocky islands and bays. The rocks were varied and beautiful, and the water was that clear green and vibrant blue that makes this bit of Tahoe such a piece of paradise. 
Eventually, we reached the edge of Incline Village where we passed several interesting homes hanging tightly to the cliff just below the highway. Then we reached the long deep sandy beach of Incline Village, where we got a glimpse of some of the ginormous homes at the eastern edge of Lake Shore Drive. Homes is perhaps an understatement, these places look more like resorts. It's only when you see them from just off shore do you realize how truly big they are.
By the time we'd retraced our three mile route, we were beat and ready for lunch. We found a quiet sandy spot at the end of the Sand Harbor boat launch beach and after lunch spent a few hours alternating between immersing ourselves in the crystal clear water of the sandy bay, and warming up on the beach. And of course, pinching ourselves repeatedly that it really was mid-October and we were swimming in Lake Tahoe. All in all though, even though it was a spectacular day, we would give it all up for a good drenching rain to put an end to this fire season.