10 Jun 2019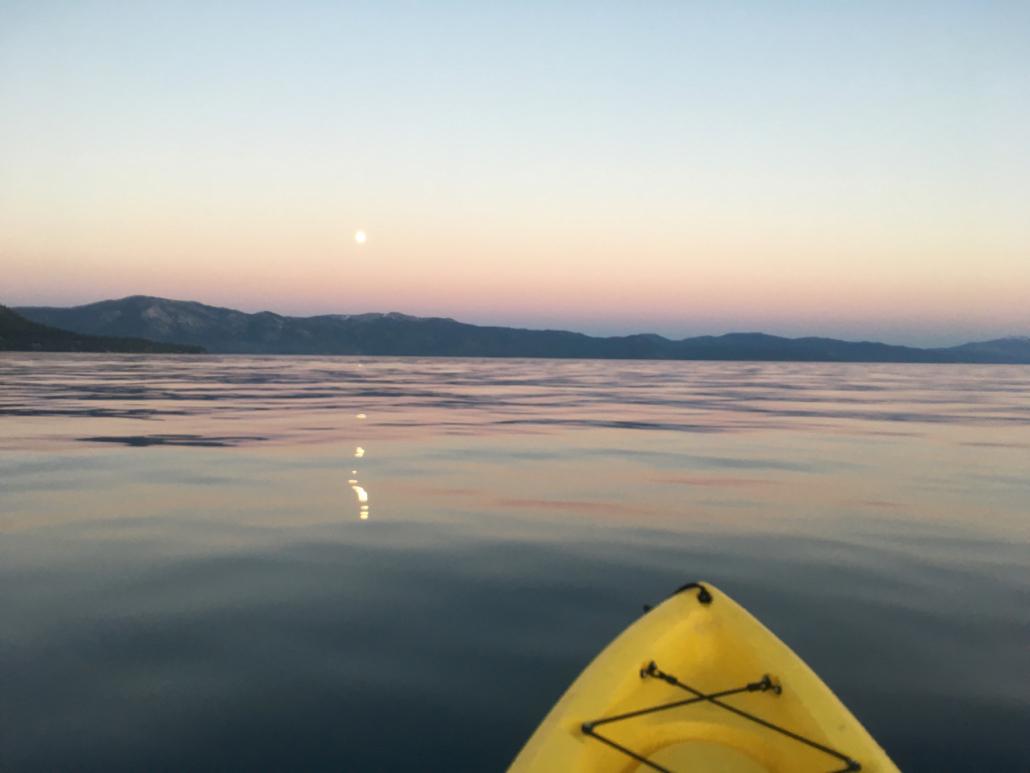 Those of us who love Lake Tahoe are always trying to come up with another way to immerse ourselves in the lake's beauty. The folks at Tahoe Adventure Company have come up with a really good one: An evening kayak to catch the sunset over the lake, followed up by the rising of the full moon over the water. How cool is that? 
The paddle sets out from Tahoe Vista and lasts about two hours before returning to the shore for drinks, snacks and more moon gazing on the beach. All your kayaking gear is included and knowledgeable guides will pass on all sorts of interesting Tahoe trivia and tidbits as you slowly paddle your way across the water.
"You get a unique perspective of the area from a kayak. Once we get out on the water, we're away from all the crowds and immersed in the lake environment. It is a great experience," says Kevin Hickey, Owner of Tahoe Adventure Company.
Last summer I joined one of the full moon paddles so I could write an article about the experience. Ah, the trials and tribulations of being a journalist. It was a wonderful evening. The group of other paddlers were mostly first timers to Tahoe and they really enjoyed learned about the lake from the guides. It was so relaxing being out on the water on a calm evening watching the changing colors of the lake as the sun set. Then on the way back, right on cue, the moon rose over the high ridge above Tahoe's east shore. It was truly magnificent, even for this guy who gets to see Tahoe every day.  
Here is the schedule of tours this summer: 
2019 Full Moon Adventures:
Sunday, June 16th ~ Night Before the Full Strawberry Moon ~ 6:30pm-9:30pm
Monday, June 17th ~ Full Strawberry Moon ~ 7:00pm-10:00pm
Monday, July 15th ~ Night Before the Full Buck Moon ~ 6:30pm-9:30pm
Tuesday, July 16th ~ Full Buck Moon ~ 7:00pm-10:00pm
Wednesday, August 14th ~ Night Before the Full Sturgeon Moon ~ 6:30pm-9:30pm
Thursday, August 15th ~ Full Sturgeon Moon ~ 7:00pm-10:00pm
Friday, September 13th ~ Full Harvest Moon ~ 6:00pm-9:00pm
Sunday, October 13th ~ Full Hunter's Moon (HIKE) ~ 5:00pm-8:00pm
Cost: $65 per person
Tahoe Adventure Company or call 530-913-9212.