13 Dec 2016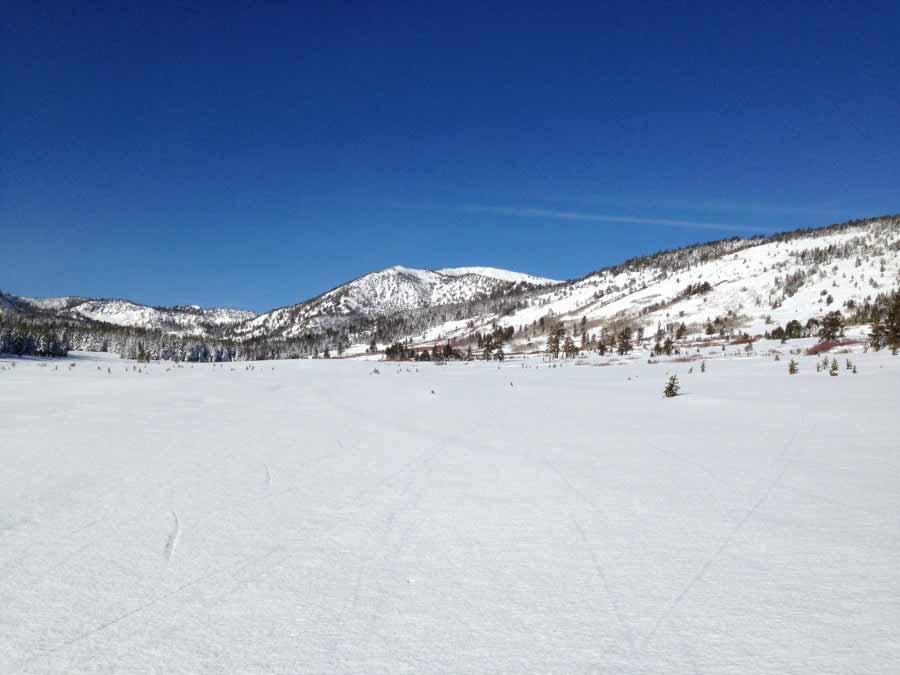 A few days ago we got a deluge of rain at lake level. While we would have preferred snow, it was a much needed infusion of water that brought Lake Tahoe up above the rim of the lake. For the first time since September, water from Lake Tahoe was again trickling into the Truckee River.
Hopefully impending storms will bring lots of the fluffy white stuff in the next week, but in the meantime I wanted to cross country ski and knew that I needed to go high, above 8000 feet, to find snow. When it rains at lake level, the go to place to find snow is the top of the Mt. Rose Highway which is above 8500 feet. While it seems a long way, it's just a 35 minute drive from Tahoe City to Tahoe Meadows, and I found out, it was well worth the drive.
I arrived at a snowy paradise. The sky was that deep, after a storm, dark blue that just makes you smile and say ahhh. The snow was shining bright and pretty dang deep, especially compared to what you could find a 1000 feet lower.
I started out skiing away from the road on a pair of striding skis. As I made my way downstream across the meadow I quickly realized that the snow had frozen hard, it was smooth, not disturbed by a lot of tracks, and my skis were floating right at the surface of the snow…hey, lightbulb, I could skate ski this!
I strode back to my car, switched gear and then began floating across the smooth meadow on my skate skis. It didn't take long until I had an unstoppable grin as I flew up and down the gentle slopes in a state of blissful peace.
Being able to skate ski on a meadow away from a groomed trail is a special treat that is usually reserved for the late spring when the freezing and thawing cycles of warm days and cold night create firm snow. But in this case, wet snow followed by freezing temperatures did the work toot suite, creating awesome meadow skating conditions in the middle of December.
My skate skiing surprise points out an important factor to remember to enjoy all that the Tahoe outdoors has to offer. You have to pick your time, place, and sport based on the weather conditions. Sometimes you have to drive to that one special place where you can find the snow, which might even be much better snow than you expected. Other times you ride your bike instead of ski. And sometimes, hopefully very soon, it dumps feet of the soft cold powder, and then the choice is so much easier.