19 Mar 2022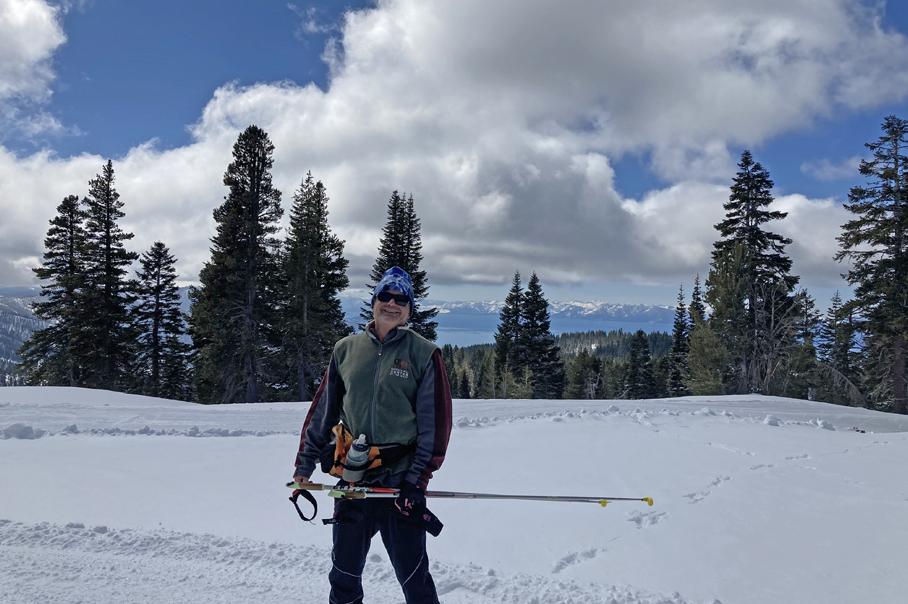 By Tim Hauserman
When the cross-country ski season is winding down at much of the lower elevation ski areas around Lake Tahoe and Truckee, the high altitude setting of Nevada Nordic's trails atop the Mt. Rose Highway will continue to be available for skiing. At over 8500 feet in elevation the area gets a lot of snow and holds onto that snow well into April. Last year I was able to ski there on May 1st.
Nevada Nordic trails are groomed by a small non-profit organization who is dedicated to providing the only groomed cross-country skiing experience in the state of Nevada. The trail network continues to grow and now includes around 18 Kilometers of trails. There are a series of fun loops with short ups and downs, as well as a longer jaunt up to the top of Chickadee Ridge on the Lakeview Trail. This route provides excellent views of Lake Tahoe.
While 18 kms of trail doesn't sound like a lot for strong XC skiers, I assure you that since these trails are 1500 feet higher than any other cross-country ski area in the region, the lack of oxygen will contribute to getting a challenging workout. Several times I've skied here and at the end of the ski was quite surprised that I'd only covered 15 K.
Use of the trails is free, but hopefully once you have skied there you will want to contribute to the high cost of grooming. Go to nevadanordic.org to make a donation, and get a good look at the trail network. The trails are usually groomed four days a week. The website provides grooming updates, so be sure to check it out the night before you head out on the trails if you want to be sure to have freshly groomed corduroy. There are no trailhead amenities. Pack it in, pack it out. Don't walk on the groomed trails.
To access the trail network from Incline, head towards Reno on Highway 431:  The grooming starts just beyond the right-hand side pull-out, which is about 1.4 miles past the Scenic Viewpoint, and just before the road takes a big bend to the right after the long straightaway. Another access point is to continue on another mile or so and park alongside the road just before the Ophir Creek Trailhead and the start of Tahoe Meadows. The trail network is off of the right side. If it is snowing and the state is plowing the roads, wait until the plowing is completed and the sun comes out before heading to the trails.