24 Feb 2018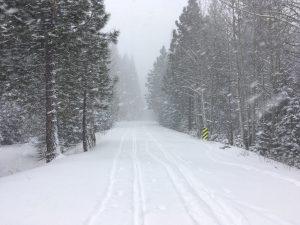 This winter has certainly not been a bell ringer when it comes to snow production, especially for us nordic skiers who hang out under 7000 feet. In fact, I believe I might have just spent more time watching cross country skiing in the Winter Olympics then skiing myself. Fortunately all that watching was rewarded with the amazing Gold Medal performance of Kikkan Randall and Jessie Diggins!
Given all this lack of snow, a snowy day is a day to be savored and enjoyed. Thursday, we were treated to one of those rare snow days and I put it to good use by skiing my way up Blackwood Canyon on the West Shore. I believe it might have been my first ski this year in a heavy snowfall and it was truly glorious…pretty dang cold and wet…but glorious.
There is something incredibly special about being out there on skis when the snow is pounding down hard, and your view of the surrounding forest keeps disappearing in waves of white. The road up Blackwood is a popular spot for snowmobilers, but I beat them to the freshies, and much of the way I had fresh tracks through the snow.
The best part of skiing alone in a snowstorm is the quality of the sound. The wind rushing through the trees, and the muffling that the new snow provides, transports you to a quiet zone of peace and tranquility even if you are just a mile or two from civilization. I'm sure it must surely have been the same sound encountered by Snowshoe Thompson 150 years ago, when he made his way through the deep snow from Genoa to Placerville carrying his pack full of mail.
Last winter, it seemed like all it did was snow, and I thought for sure all that snow shoveling would give me Popeye super arms (or they would just fall off from exhaustion). But this winter, with snow so scarce, every snow storm is a cause for celebration, and a reminder that playing in the snow is one of the best reasons for being in Lake Tahoe. Looks like snow is in the forecast for this upcoming week, so get out there and enjoy.