16 Feb 2021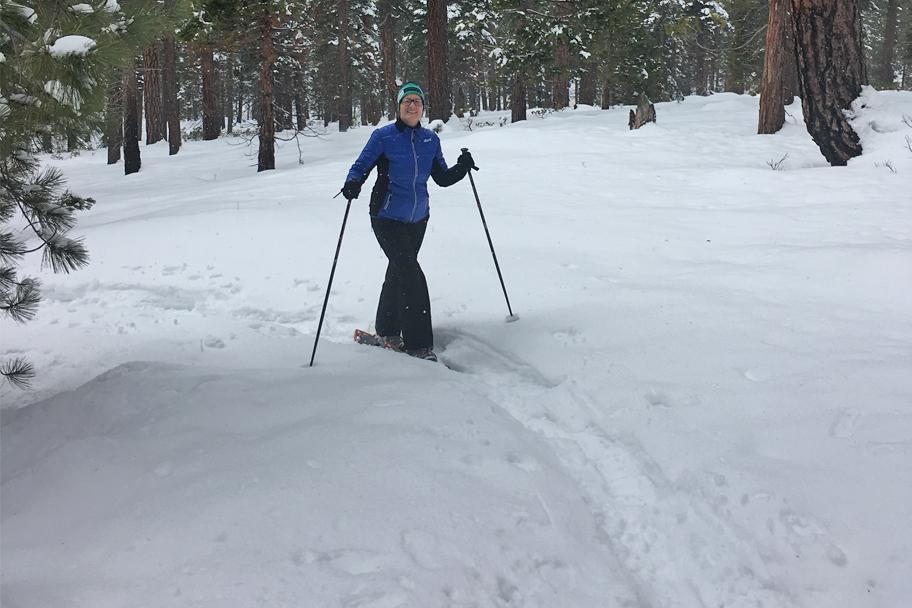 While various forms of sliding on snow attract the bulk of Sierra winter adventurers, another alternative is to go snowshoeing. If you want to be on snow, like to hike and the thought of escaping the resort crowds appeals to you, snowshoeing might be a good option. The number of snowshoers is small and you can go almost anywhere in the snowy woods as long as the slope is not too steep. The sport attracts anyone from a first timer on the snow who is timid about skiing, to long distance runners who want to get their endorphin buzz by running on the snow. 
First, you need to get snowshoes. You can rent them from most ski shops, or if you are planning on taking up the sport on a regular basis, purchase a pair. They should last you pretty much forever. They have lightweight, well designed, easy off and on models that should fit your needs in the $200 range. 
Once you got the shoes, the only other thing you might want are a pair of poles. Shoot for about the same length as downhill ski poles, or if you have hiking poles with big baskets those would work as well. Clothing wise, you want waterproof or at least water resistant pants as you will be kicking up a bunch of snow. Otherwise wear what you might wear cross country skiing. Don't dress downhill skiing warm because you will be getting a workout and you will quickly be doffing layers to escape the heat.  Waterproof hiking boots are a good choice, but even regular hiking boots with a good warm pair of synthetic socks will work. I need me some of those boots, wet feet seems to be my weak point when I snowshoe. 
Where to go: You can go to a groomed cross country ski center and rent the gear and use groomed trails, but one of the great things about snowshoeing is you can just go out into the woods wherever you live. If it has recently snowed a lot, the snow will be deep and you will sink in, so look for a track that other snowshoers have already packed down. By the way, a mile walking through deep snow is a lot harder than a mile walking on a hiking trail. Plan your trip accordingly. 
Etiquette: You will perhaps be snowshoeing where backcountry skiers go. Follow existing snowshoe tracks, and don't stomp on the skin tracks of backcountry skiers. It's pretty easy to tell the difference. Park only where parking is allowed. Tell someone where you are going and when you will be back. Bring layers, snacks and water. Enjoy.