3 Apr 2021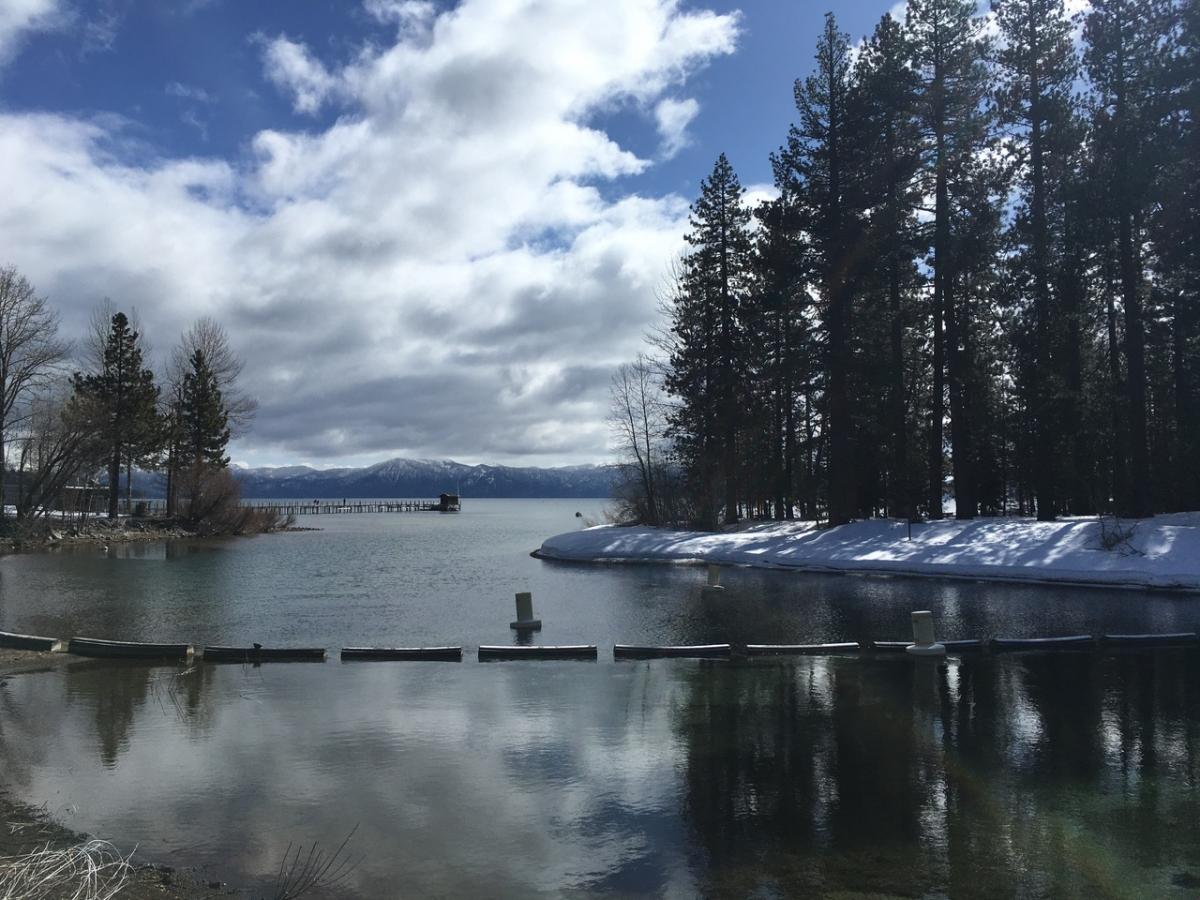 Just across North Lake Blvd. from The Cobblestone in Tahoe City lies the Commons Beach and the Lakeside Trail. Now that spring appears to be springing upon us, it's time to revisit this lush little half mile. There is quite a bit to see in a short distance on this trail, and most importantly, it's a chance to reacquaint yourself with that big blue lake that we tend to put on the back burner when there is skiing and shoveling to be done.
A good spot to begin a brisk walk along the lakeside trail is the Tahoe City Post office, where the trail winds its way down to the lakeshore. There a public, but lightly used, pier can take you out onto the lake. The trail next passes by the home of the Tahoe Gal, still in winter slumber, and a little side trail leads to a bench and nice sitting area in a quiet alcove.
Then the trail gets busy as we pass by The Boatworks, where on the left is the harbor, now mostly empty except a few large boats wrapped in plastic, and on the right two restaurants:
Hacienda Del Lago, and Jake's. Just a bit further, we pass Mo's BBQ, and shortly after Za's Lakefront restaurant deck which is close enough to the trail that a patron could toss you a piece of that delicious fried chicken they serve on Tuesday. That would have to be an overly generous patron. Reaching onto the lake from that deck, is another public pier, an excellent spot to take in the view of The Commons and Tahoe City.
A bit more walking along the shore takes you past the ancient lava caves that rise up steeply on the right. Then the trail reaches the grassy beach area with restrooms, playground and parking. Now is a good time to note the rise and fall of Tahoe's lake level. It appears to have dropped at least a foot since the last time I walked this trail in the fall, and our less than stellar winter promises a bigger beach this summer.
The Tahoe Marina Lodge condos take away our opportunity to stay along the lake shore for a bit. After the commons, head up to the highway, then walk west to Macinaw St. where a large parking lot takes you to the trail's resumption. Final stop, the beginning of the Truckee River at the Lake Tahoe Dam and Fanny Bridge. At the back of the dam, be sure to check out the latest info on flow rates provided by Bridgetender John.
There you have it, you have completed the lakeside trail, and perhaps have built up enough appetite to sample the wares of one of those restaurants you passed. Bon appetit!