24 Jan 2022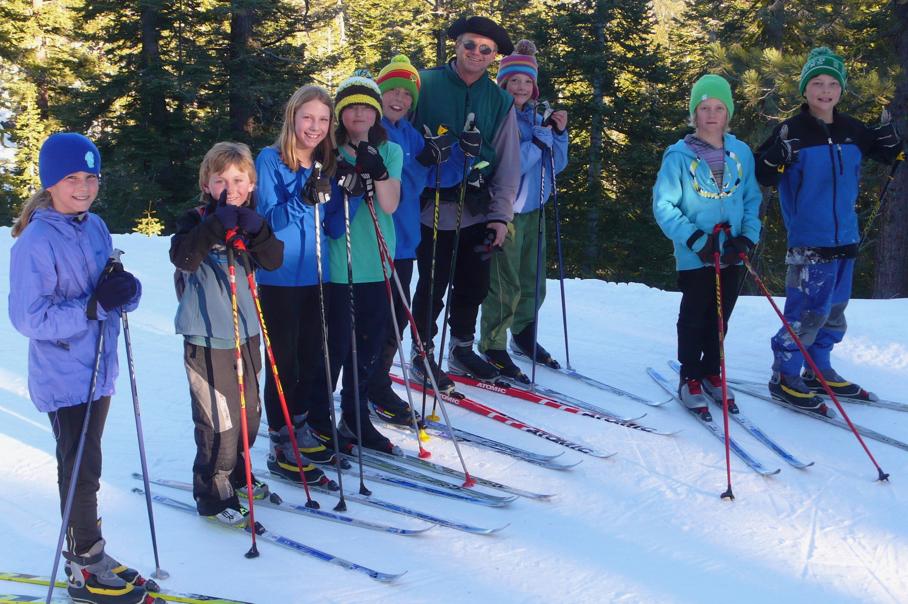 Photo 2010 Strider Gliders
3rd from right: AJ Hurt, far right: JC Schoonmaker.
Tahoe sends it's first cross-country skiers to the Olympics
By Tim Hauserman
For decades the Tahoe region has been home sweet home for Olympic medal winners and
world class skiing and snowboarding competitors. The Beijing Winter Olympics will
once again be graced by a great group of Tahoe locals attempting to bring a medal home to the
Sierra. This year's Olympic hopefuls will also include two cross-country skiers who were raised
at Lake Tahoe.
Downhill skiers from our region going to the Olympics will include second time Olympians Travis
Ganong and Bryce Bennett, as well as AJ Hurt a North Tahoe High School grad and first time
Olympian. On the cross-country side JC Schoonmaker, another NTHS grad, and Hannah
Halvorsen, from Truckee will both get to be a part or the Olympic experience for the first time.
For those of us who have been on cross-country skis since we wore neon bright jackets, seeing
some of our locals make it to the big show is not only very exciting, but a testament to how far
cross-country skiing has come in our region. With Tahoe Cross-Country, Tahoe Donner, Royal
Gorge and Kirkwood, the Tahoe region has long had one of the most extensive network of
cross-country ski trails in the country. But until recently, when it came to producing top winter
athletes in the region, cross-country skiing took a back seat to downhill.
Over the last 15 years or so, however, excellent training programs were developed at Auburn
Ski Club, Sugar Bowl Academy and Tahoe Cross Country Ski Area. Kids from a young age
learned to love cross country skiing and then later with the help of some great coaching at the
middle school and high school level, those grown up kids became really good cross-country
skiers. In addition to Schoonmaker and Halvorsen, Russell Kennedy, Matt Gelso and Joanna
Reid have all trained at Tahoe and gone on to the highest level of competition in the last
decade. There are also a slew of recent Tahoe/Truckee high schoolers who went on to do quite
well in college competition, and some have returned to the region to help coach the next
generation.
What makes these Tahoe cross-country kids so special is that while racing is very hard, they
also know how to have fun, and often partake in a variety of other sports as well as skiing. And it
turns out, some of those top downhill skiers have spent some time on cross-country skis as well.
I remember AJ Hurt as a great nordic skier in Tahoe XC's Strider Glider's, and she now credits
that experience with better starts out of the gate in her downhill races.
While introducing kids to the sport and then training them at the highest level does increase
their chances for success, it is the skill, courage and heart that made it happen for these
amazing athletes. Congratulations to all the Tahoe kids who are on their way to Beijing!