1 Aug 2022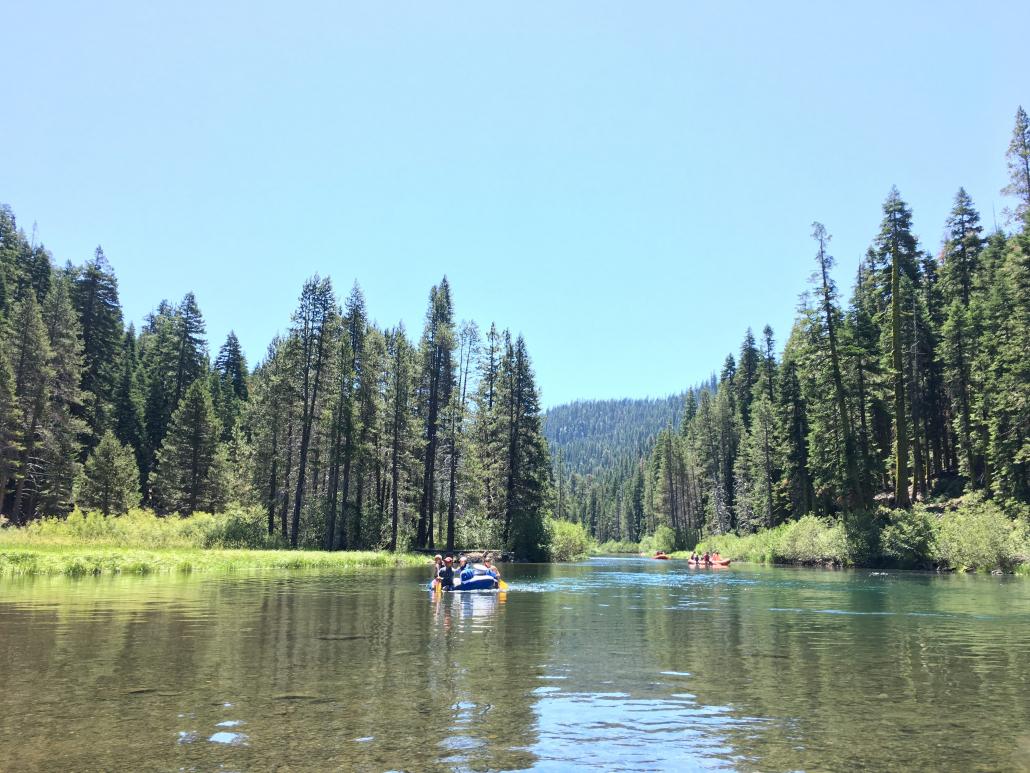 River Rafting from Tahoe City To River Ranch is on! Enjoy a fun-filled day with family and friends during your Lake Tahoe trip. The flow from Lake Tahoe's dam into the Truckee River increased to over 200 cubic feet per second, allowing the commercial rafting companies to begin operating again. And a chance for me to repeat my annual summer ritual of floating down the river courtesy of Mountain Air Sports Truckee River Rafting, home of the yellow paddles.
Floating Down the Truckee River
There is nothing that says summer in Tahoe like a float down the four miles of the Truckee River from just below Fanny Bridge to River Ranch. Walk into just about any house in Tahoe and you are bound to see a photo on the wall of smiling folks sitting in a blue raft on the Truckee holding paddles. The reason is simple, floating down the Truckee is both relaxing and stimulating.
Even a busy day on the river is an escape from the crowds as you enjoy the peacefulness of flowing water, gazing up at the stunning beauty of the high Truckee River canyon ridge of volcanic rock coated in thick coats of green brush, and of course, a lot of swimming alongside the raft on the slow sections.
Rafting Plays a Big Part of Summer Fun in Tahoe
When I was in high school in the mid 1970s Jennifer Bell joined our class at North Tahoe High School. Her family was involved in what would become one of the two rafting companies in Tahoe City. I remember during our senior year at NTHS, which was during a drought year, our senior ditch day was floating on Mountain Air Sports rafts. We had to start downstream of Squaw Valley where there was enough water to float.
There is no such thing as an average winter at Lake Tahoe, so the rafting business is the ultimate boom or bust-endeavor at Tahoe. Sometimes you get to raft all summer, sometimes you don't get to raft at all, and sometimes you get the call that there will be enough water to start rafting the next day…and you have to instantly assemble the huge grew and begin operations within a few hours. 
Despite all that, if you stop by the Truckee River Rafting green and yellow awning, you will find Jennifer, now Courcier, and her husband and brother directing traffic in the parking lot, and their daughter Lexie at the waterfront directing you to which boat to jump into.
Book Your Truckee River Raft or Float
Rafting is not only a family affair for all the families who enjoy rafting, but for the company that makes it possible for you to float downstream. Sign up at truckeeriverrafting.com