18 Mar 2016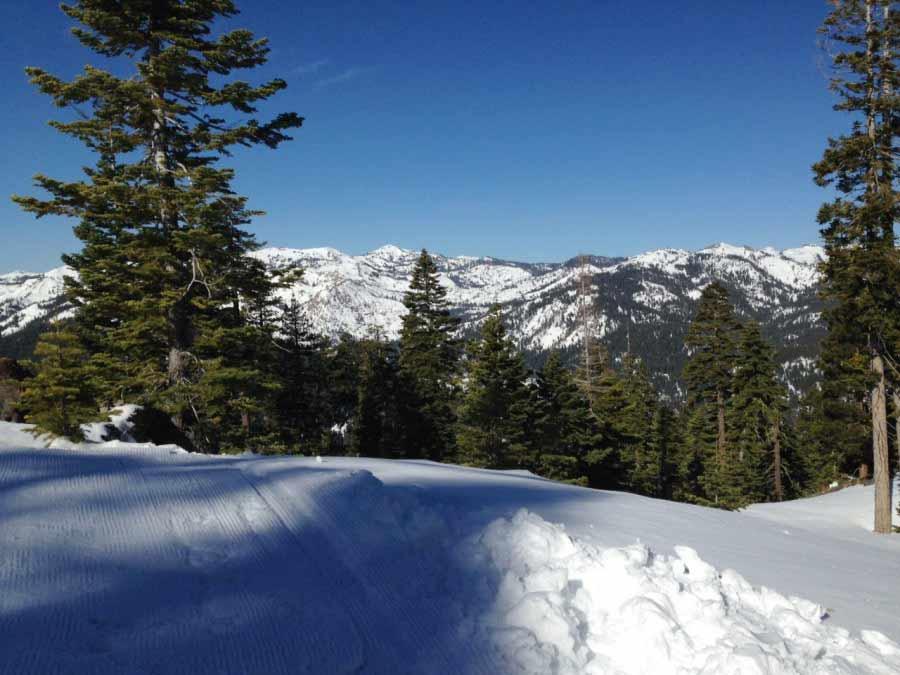 After a few bad winters in a row…and of course in Tahoe, bad means not much snow, this winter we finally received our due for snowfall. It has given skiers and other adventurers the opportunity to reacquaint themselves with those special winter places they haven't had the pleasure of exploring in awhile. A few days ago, for the first time in several years, Tahoe Cross Country Ski Area was able to open up The Wall, which provides spectacular views of the Pacific Crest and Squaw Valley.
What Tahoe XC calls the Wall sits close to a popular mountain biking route in the summer. To get there, head out from the Tahoe XC lodge on Green and Orange trails to the Great Ski Race Trail. This long ascent to the Fiberboard Freeway will get you warmed up, for the bigger climb to come. At the Fiberboard, take a brief respite by turning left and descending to a dip in the road where The Wall leads off to the right. It's a kilometer plus steep ascent to a level spot where you cross the unseen Tahoe Rim Trail.
From here in the summer, the mountain biking route begins a very steep descent with glorious Squaw Valley views and connects with several trails leading towards the Truckee River, including the Western States Trail. The cross-country ski route, however, is not done with the uphill, oh no, those sadistic groomers have created more pain and pleasure. Another steep open climb heads to a knoll where the views make it all worthwhile: A sublime 360 degrees panorama.
Hopefully you timed your ski for just the right time to make the downhill fun: Early enough for the snow to be crisp and fast on the way up, but softened up a bit by the time you head down to make the ride more manageable. Based on my ski yesterday, you want to be heading back at about 10 am. It's a thrilling skate skiing downhill on The Wall, followed by another fun downhill on the Great Ski Race trail, which if you timed it right, will be soft butter…for just a short while before it gets sticky.
Tahoe is full of amazing things to do. But some of them of the best are just around for a short time and then poof, they are gone. Like the fresh powder on a blue bird day after a storm, the peak of fall colors in the fall, or a climb to the top of a Wall on a lucky spring day.