31 Dec 2018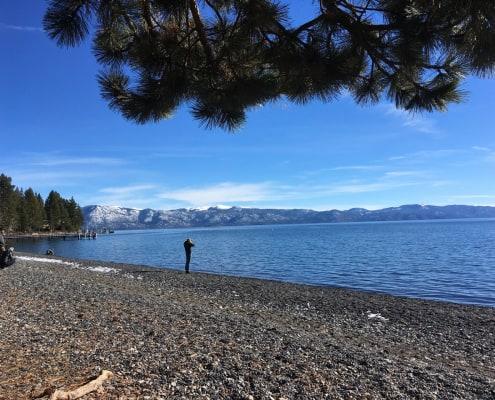 Hi, This is Lake Tahoe here…and just thought you should know, that I feel a bit neglected in the winter. This time of year folks say they are heading to Lake Tahoe, but sometimes they don't even stop by to say hi.  Oh, they get close. They head into the mountains to go downhill skiing or snowboarding at Squaw Valley, Sugar Bowl or Northstar, or cross country ski at Tahoe Donner, Royal Gorge or Tahoe XC. Or they snowshoe at Castle Peak or into the flats of Page Meadows. Sometimes they even get a bit of a glimpse of me off in the distance from a ski run, or as they drive through Tahoe City, but come on guys, I miss you.
I know, I know. It's cold outside, and my crystal clear water is pretty dang cold as well. But I'm not suggesting you have to immerse yourself in me, just that you get close enough to hear my waves rolling against the shore. There are plenty of places even in the winter to get right up next to me and take a closer look.
You can take a stroll along the shore in Tahoe City. The lakeshore path is kept clear of snow, there are piers to walk out onto and you can sit next to me and feel the peace and quiet. Kings Beach's sandy shoreline is another good spot to say hello. Or you could escape the crowds at Sugar Pine Point State Park where a trail goes right along the shoreline for over a mile. Sit yourself down below one of those giant cedar trees and your day is made.
If it is an especially nice day, you can actually get on top of me in a kayak by renting a boat at Waterman's Landing in Carnelian Bay. They are open all winter, and also have a beautiful rocky beach with picnic tables making for a nice lunch spot.
However, you get yourself down to my edge in the winter you will like it. Everyone else is off skiing, and there are only a few boats on the lake. While I take a breather from the summer crowds, you can find some peace from the winter crowds and remind yourself as to why you came to Lake Tahoe in the first place.
We are smart