5 Feb 2016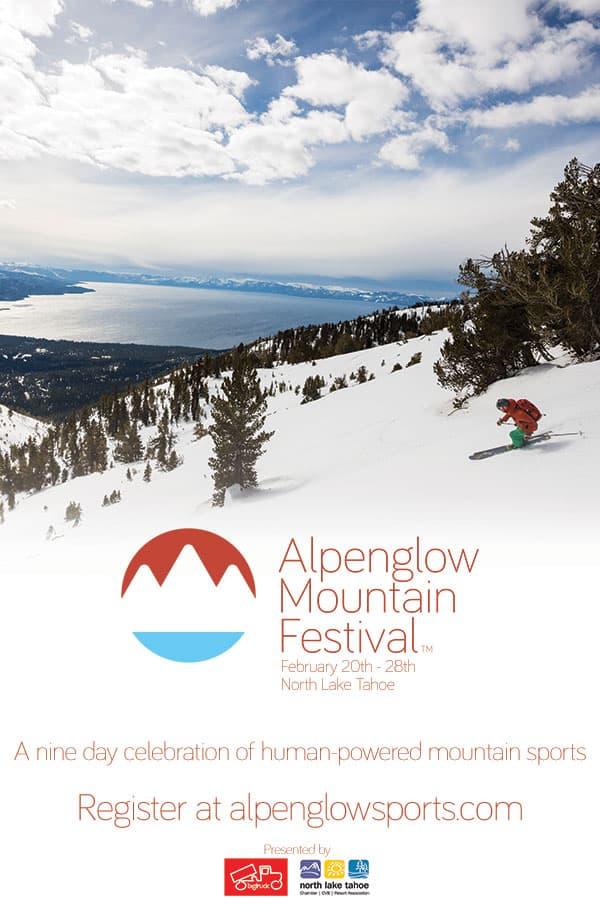 Tahoe City's Alpenglow Mountain Festival runs from February 20 through February 28th. Unlike the last few years, there will be snow, allowing the event to live up to it's amazing potential.
The festival is a celebration of human powered winter activities. Most of the events are free, and bring the expertise of some of Tahoe's best athletes to those who always wanted to try a new winter sport. Backcountry skiing, classic cross-country and skate skiing, snowshoeing and fat biking are all covered. There are yoga classes every day to stretch out those tight muscles, as well as nights filled with inspiring films and presentations.
Event Schedule:
Saturday, February 20
Beginning backcountry Ski Tour
Beginning classic cross-country ski clinic
Yoga at The Yoga Room
5Point Film Festival: "North America's most Inspiring and critically acclaimed adventure film tour."
Sunday, February 21
Birding Snowshoe Tour
Fat Bike Challenge Race
Beginning Skate Ski Clinic
Stretch Yoga at The Yoga Room
Monday, February 22
Flow Yoga at The Yoga Room
Intermediate Classic XC ski Clinic
Intermediate Backcountry Ski Clinic
Avalanche Beacon practice
Full Moon Snowshoe
Tuesday, February 23
Snow safety with Sierra Avalanche Center
Community Fun XC ski at Tahoe XC
Apres yoga at The Yoga Room
Backcountry Film Festival
Wednesday, February 24
Intermediate skate ski clinic
Restorative Yoga at The Yoga Room
Winter Recreational tips with the Tahoe Rim Trail Association
Women, Wine and Wax.
Thursday, February 25
Backcountry Ski Tour
Intermediate classic cross country clinic
Apres Yoga at The Yoga Room
Winter Film Series
Friday, February 26
Community Classic Cross Country Ski at Tahoe XC
Backcountry Basics Safety Tour
Core Focus Yoga at The Yoga Room
Tahoe style Nachtspektakel
Saturday, February 27
Beginners Backcountry Ski Tour
Women's Only Intermediate Backcountry Ski tour
Lake Tahoe Nordic Demo Event: which includes a series of skating and classic cross-country ski clinics as well as gear Demos and Yoga in the Yurt at Tahoe XC.
Screening of Jeremy's Collins "Drawn: The art of ascent."
Sunday, February 28
Fitness Skinning Citizen Uphill and Demo
Natural History Snowshoe with Tahoe Institute for Natural Science
Restorative Yoga at The Yoga Room
For a detailed schedule and to register for events go to alpenglowsports.com