16 Nov 2019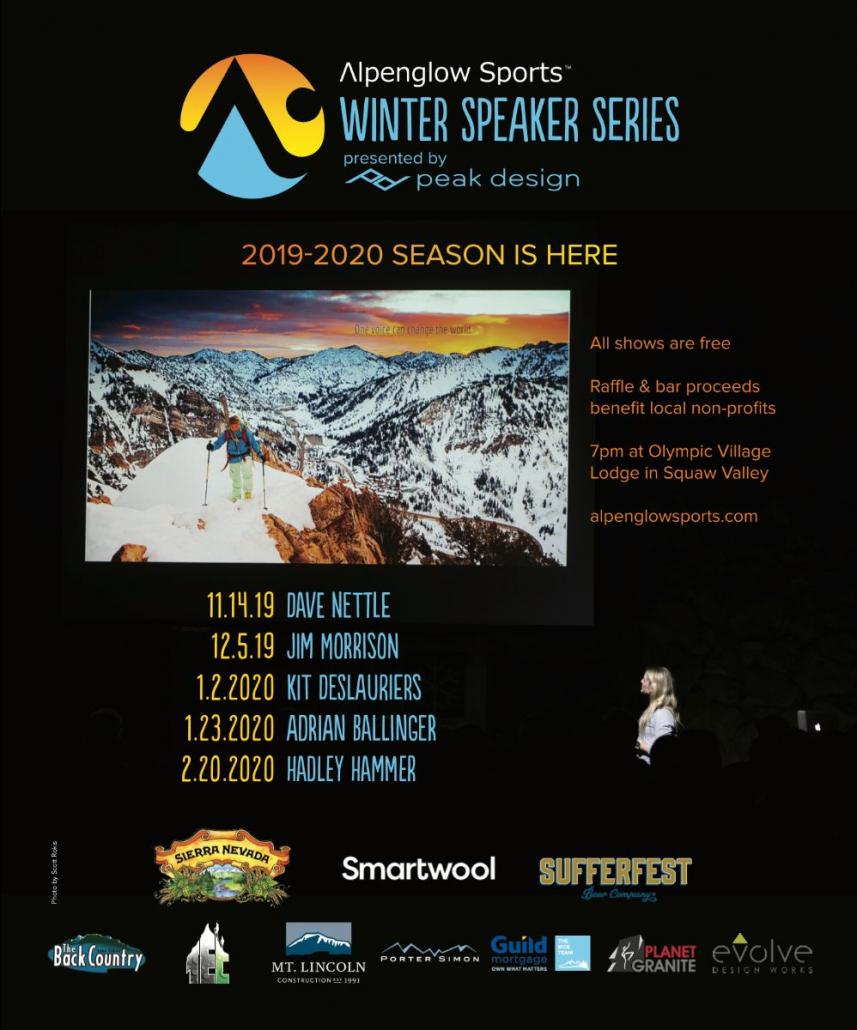 Going to be in Tahoe this winter and looking for a fun and enlightening way to spend a Thursday evening? Join several hundred other Tahoe folks at the Olympic Village Lodge in Squaw Valley for the Alpenglow Winter Speaker Series.
The Alpenglow Winter Speaker Series is now in its 14th year, and is considered "the premier North American forum for adventure storytelling." That's because the speakers include some of the greatest adventurers in the world, who will woo you with their accomplishments, while making you laugh or cry.  Not only is the event free, but there is a raffle with an awesome collection of prizes benefitting a local non-profit organization. Since its inception the speaker series  has brought in over a half million dollars to local organizations.
I was lucky enough to catch the first speaker, Dave Nettle, on November 14th. Dave has long roots in the Tahoe region, but has climbed challenging peaks all over the world. He is always keen to find the interesting and absurd in his adventures, and I was either roaring with laughter or saying to myself, "I would never do that" during his whole presentation. The event sponsored Adventure Risk Challenge, a great program which helps at risk teens lead successful lives.
Here is what is on tap for the rest of the series:
Jim Morrison, December 5th
In October 2018, Jim Morrison and his teammate Hilaree Nelson became the first people to ski from the 27,940-foot summit of Lhotse, the fourth-highest mountain in the world. In May 2018, Jim summited Cho Oyu and Mount Everest in the Himalaya. He skied a combined 11,000 vertical feet on both mountains.
Raffle & Bar Proceeds benefit Achieve Tahoe.
Kit Deslauriers, January 2nd
Kit was the first person to ski the highest peak on every continent. National Geographic named her Adventurer of the Year and Outside Magazine named her one of the women who has made the biggest impact on our world.
Raffle and Bar Proceeds benefit Sierra Community House.
Adrian Ballinger, January 23
Adrian says it best: "Sometimes on a big climb, everything just falls into place and you know you will summit. Experience, conditions, weather, other teams…it just feels right. K2 in the summer of 2019 was not that. Too many climbers, the most snow in 3 decades, parasites, exhaustion before we even started. We tell ourselves the importance of visualizing success, of believing, when we have audacious goals. On K2, the key was inexorable forward progress even when belief was impossible."
Raffle & Bar Proceeds Benefit the Truckee Donner Land Trust.
Hadley Hammer, February 20
"Hadley Hammer entered her first Big Mountain skiing competition at age 25, a choice that would lead her into competitive skiing and remote ski expeditions around the world. She wasn't a childhood phenom, or overnight success, but has learned how to live a life for fulfillment, passion, and joy.
Raffle and bar proceeds benefit The Tahoe Fund.
All the speakers start at 7 pm. But get there early to purchase raffle tickets, get a parking place, and join the crowd. For more information go to alpenglowsports.com