4 Apr 2016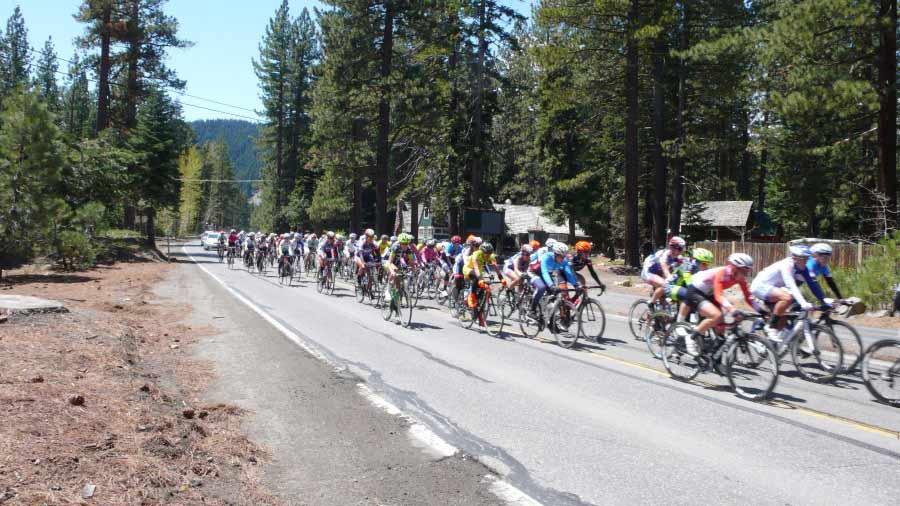 Several years ago The Amgen Tour of California, America's most prestigious professional bike race, was scheduled for two days of competition near Lake Tahoe. A ride around the lake was the plan for one day, and the next day, the racers were to ride from Squaw Valley over Donner Summit on Highways 40 to Nevada City. As sometimes happens in May at Lake Tahoe, it snowed the night before the stage and the event was cancelled. This was a sad moment for many Tahoe area bike fans who would have loved to see the big boys roll through town. But good news has arrived, they are back again this year, so pray for good weather.
This year on May 19th Stage Five of the Amgen Tour will begin in Lodi and end in South Lake Tahoe. In-between, the racers will climb 13,000 feet over 132 miles, most of it on Highway 88, one of California's prettiest routes. The ride starts at nearly sea level in the Central Valley vineyards and climbs to over 8600 feet in the heart of the Sierra, before barreling down into South Lake Tahoe. If all that distance and climbing is not enough, the stage ends with a sprint up Ski Run Boulevard to Heavenly Resort.
To add to the specialness of May 19th, Stage One of the Amgen Women's Tour will happen at the same time. The top women competitors in the world will start in South Lake Tahoe, circle the lake (including a Queen of the Mountain competition at Emerald Bay) before also finishing on the mile long uphill to the finish at Heavenly. The women are scheduled to finish around 2 pm, just a few hours before the men are set to arrive at 4:30 pm.
How to watch it?
The Women's race can be seen from almost anywhere around the lake, but the top of the hill at Emerald Bay, or Spooner Summit would be good choices. For the men's race, along the race route in South Lake Tahoe would be a good viewing spot, or take the lovely drive to Carson Pass on Highway 88 to see the top of the climb. Wherever you see it, don't miss the best bike racers in the world.