25 May 2015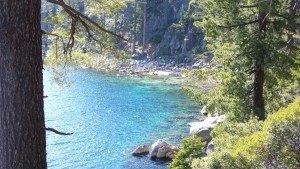 After a mild winter like this last one, most of Tahoe's best hiking trails are already snow free and ready for you to enjoy. Try one of these beauties:
Rubicon Trail: This 4.5 mile hike between Bliss State Park and Emerald Bay is one of Tahoe's finest, and the best time to go is in the off-season before the onslaught of the summer crowds around the 4th of July. The trail meanders along the shore of Emerald Bay then heads several miles north of the bay. Watch for osprey and bald eagles, and enjoy views of Mt. Tallac and Maggie's Peaks.
Trailhead: Vikingsholm Parking Lot in Emerald Bay, or start from one of Tahoe's most spectacular beaches in DL Bliss State Park.
Crag Lake-This 10 mile round trip is one of the easiest routes into the Desolation Wilderness. The first mile is flat, then you begin a steady, but not too difficult, climb following Meeks Creek. At 4.5 miles you reach Lake Genevieve, but keep on going, because Crag Lake is larger and more dramatic. Find your piece of granite along the shore and ponder lofty Crag Peak. If the day is warm, it's a nice spot for a swim. Still energized? Hike another mile to long and beautiful Stony Ridge Lake.
Trailhead: Meeks Bay between the Fire House and the Beach on the bend in the road.
Tahoe Rim Trail-Tahoe City North towards Brockway Summit.
This section of the Tahoe Rim Trail gives you a lot of bang for the buck. Start uphill and right away you are treated to views of Lake Tahoe and downtown Tahoe City. In about a mile a panoramic view of Tahoe and the Truckee River Canyon unfolds. This is a great stopping spot if your goal is a quick hour out and back. If you have the time and energy, keep going as you follow the Truckee River canyon and are treated to more lake and canyon views as well as a parade of monstrous sugar pines and cedars that love these exposed ridgetops. Three miles from the trailhead you arrive at a great cliff top spot that is the place for lunch. Sit next to gnarled juniper trees while gazing over the edge directly down onto the Truckee River far below.
Trailhead: Fairway Drive in Tahoe City across from the Fairway Center.
Tahoe Rim Trail-Brockway Summit
Looking for a fairly easy 3 mile round trip to a great view? Head uphill and in just over a mile reach a junction. A left turn brings you to a vista on Flintstone rocks with views of Tahoe in one direction and Truckee in the other.
Trailhead: Just 0.5 miles downhill from the top of the summit. Head uphill on the TRT Brockway to Mt. Rose section.