19 Nov 2022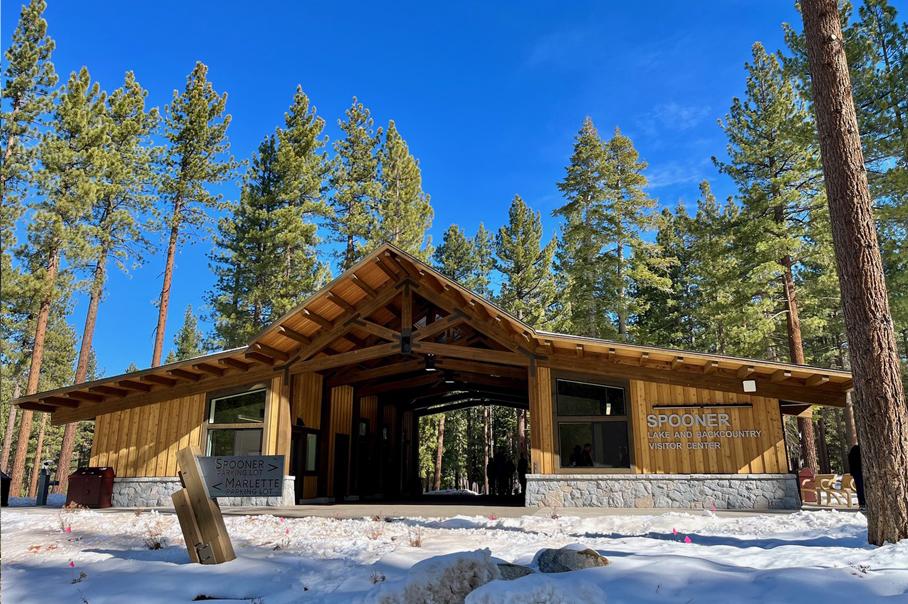 By Tim Hauserman 
Spooner Lake State Park located close to the confluence of Highway 28 and Highway 50 above Tahoe's East Shore has long been a recreational hub. The dirt road up towards Snow Valley Peak provides access to Marlette Lake and the famous Flume Trail, as well as some of the best fall colors around the Tahoe region.  A stroll around Spooner Lake itself leads to a short connector trail to the Tahoe Rim Trail. And in the winter, the area is a haven for cross-country skiing with the non-profit Nevada Nordic often grooming the trail system. 
Now, the Spooner Lake Visitor Center has officially opened. The facility will include a visitor center, amphitheater, gift shop, restrooms, warming room, interpretive atrium and group picnic pavilions. 
Construction of the facility was an effort of both the State of Nevada and private donations. "We are so thankful to the Tahoe Fund donors who generously provided $300,000 in private funding to help secure the public funds necessary to make this dream project happen," said Tahoe Fund CEO Amy Berry. "Congratulations to Nevada State Parks and all the partners for breaking ground on these much needed improvements that will support the users and the natural environment."
Nevada Governor Steve Sisolak expressed his support of the Spooner Lake Park improvement projects: "In addition to providing new opportunities for the public to connect with nature and explore the beautiful backcountry around Spooner Lake, these facilities solidify the entire east shore of Lake Tahoe as a world-class recreation destination. As recreation demand continues to rapidly grow, programs that focus on environmental education and stewardship are key to providing a quality recreation experience and strengthening Nevada's economy, while protecting our precious natural and cultural resources simultaneously."
When you visit Tahoe, you can now add the Spooner Lake Visitor Center to the list of places worth visiting. In the winter, you can go on a cross-country ski or snowshoe around the park. In the summer, the hiking and mountain biking opportunities are excellent, and those hiking the Tahoe Rim Trail can use the facility as a way station or starting point.