2 Mar 2018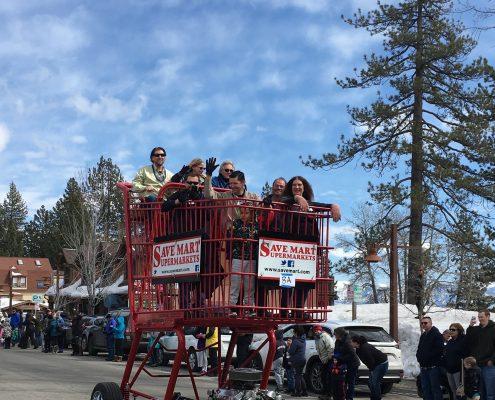 Everybody in Tahoe City is pretty stoked to finally get a nice two foot dump of snow over the last few days, and this weekend, we can really celebrate in style with a few iconic Snowfest events and a gangbuster of a day at Tahoe Cross Country Ski Area.
Tahoe City Snowfest Parade!
The Tahoe City Parade on Saturday, March 3rd kicks off Snowfest!, Tahoe's annual ode to winter fun. The parade begins at 11:30 and the road is closed just before it begins, so don't be late. This folksy, hometown parade seems to have half of the town marching and the other half waving at all their friends. Before the parade, enjoy a pancake breakfast to support the local firefighters at 222 Fairway Drive. After the parade wander around Tahoe City, as there are lots events going on from Pete and Peters After Party Parade, Paint your Snowman, Snowball Drops at the Tahoe City Winter Sports Park, and a fundraising party at The Boatworks for The Tahoe Community Nursery School. A few hours later, head to Garwoods in Carnelian Bay for the 30th annual Polar Bear Swim. For info go to tahoesnowfest.org
Alpenglow 20 K Cross Country Ski Race!
10 am on Sunday March 4th it's time for the Alpenglow 20K race through the trails of Tahoe XC. After a less then stellar winter, the trails are now packed with lots of snow and by far the best skiing of the winter is happening now.
The Great Ski Race Fundraising Party!
After the Alpenglow Race, stay at Tahoe Cross Country Ski Area for the Great Ski Race Party starting at noon. Since there was not enough snow two weeks ago when a race or no race decision had to be made, The Great Ski Race was cancelled. Instead they are holding a fundraising party for the Tahoe Nordic Search and Rescue Team, who are the guys and gals who rescue folks who get lost in a blizzard. There will be beer from Sierra Nevada Brewing, food from Men Wielding Fire and music by The Blues Monsters.
Fireworks
After the race and party at Tahoe XC, collapse, I mean relax on the Commons Beach in Tahoe City at 7;30 pm for a winter fireworks show. Fireworks at the Commons is a madhouse in the summer, but the winter show is much less crowded, and those colors look great above a carpet of white snow.