7 Mar 2016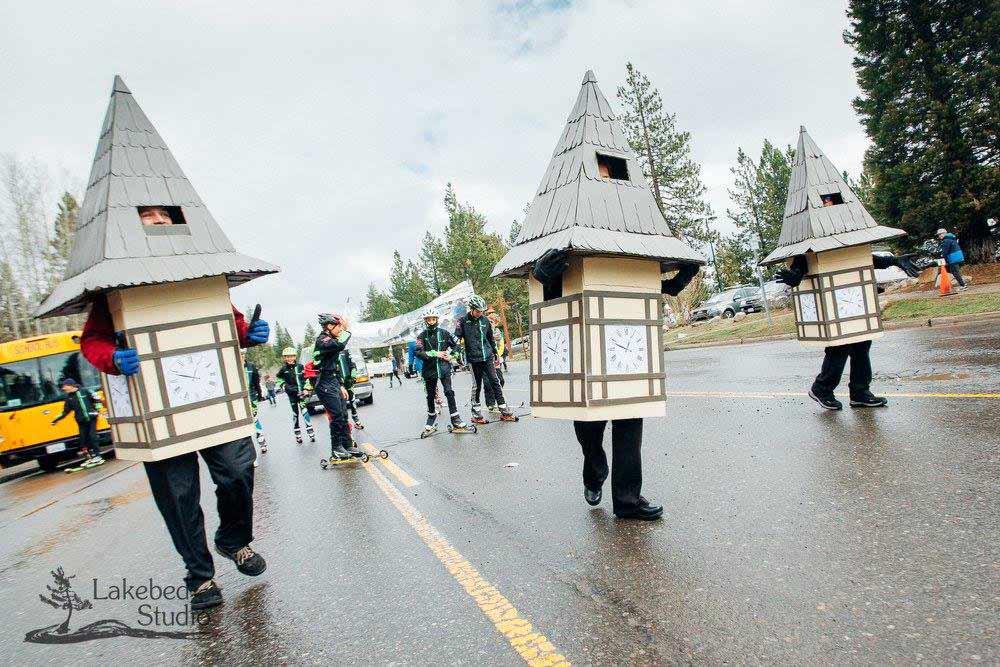 Hauserman Rental Group and The Cobblestone Center joined forces to produce a highlight entry at the 35th Annual Snowfest Parade in Tahoe City on March 5th. There were four dancing miniature Cobblestone Clocktowers, a German cottage attached to a golf cart, and a parade of rental office and Cobblestone employees dressed in authentic German attire. It was a hoot.
Since it began, the highlight of the first weekend of Snowfest has always been the Tahoe City Snowfest Parade. It's a classic small town affair where locals recognize a high percentage of the folks marching by, and parade participants are heartened by all those familiar faces amongst the crowds. The parade includes the standard fire trucks and police vehicles, as well as lots of mountain flair such as the Kiwanis Snow Shovel Brigades, the Tahoe Nordic Search and Rescue and Tahoe Cross-Country Ski Area. I was in charge of that last group which included a group of kids from Strider Gliders on cross-country skis, and their just a little bit older peers from the Tahoe XC Devo Team, burning up the asphalt on roller skis. If you never want to ski on them again, you can walk on pavement for a mile on cross-country skis.
The Hauserman Rental Group and Cobblestone entry in the parade is part of the commemoration of the 50th Anniversary of The Cobblestone. The Cobblestone's first building was built in 1966, and it held Hauserman Real Estate, which from the beginning included a focus on vacation and long term rentals.